Italy, Positano, Campania
One of the finest villas on the Amalfi Coast
The villa accommodates up to 12 guests in six tastefully decorated suites, each boasting modern amenities including bathrooms, air conditioning, heating, wifi and satellite television. Every room opens out to a balcony or private terrace overlooking the majestic bay of Positano.
The villa's entrance takes you to a small garden – the perfect spot to relish your favourite Italian wine. And then an outdoor staircase takes you down to the swimming pool on the lowest terrace, with panoramic views of the sea and sun loungers to relax on.
The main living areas include a stylish living room with a fireplace, a comfortable TV space, an elegant dining table and a coffee table seating. The traditional kitchen is one of the most enchanting parts of the villa, with modern appliances and high ceilings.
Outdoors, there's a poolside kitchen featuring a pizza oven, lots of seating and lounge areas, and a dining terrace.
More Details
DOWNLOAD OUR DETAILED BROCHURE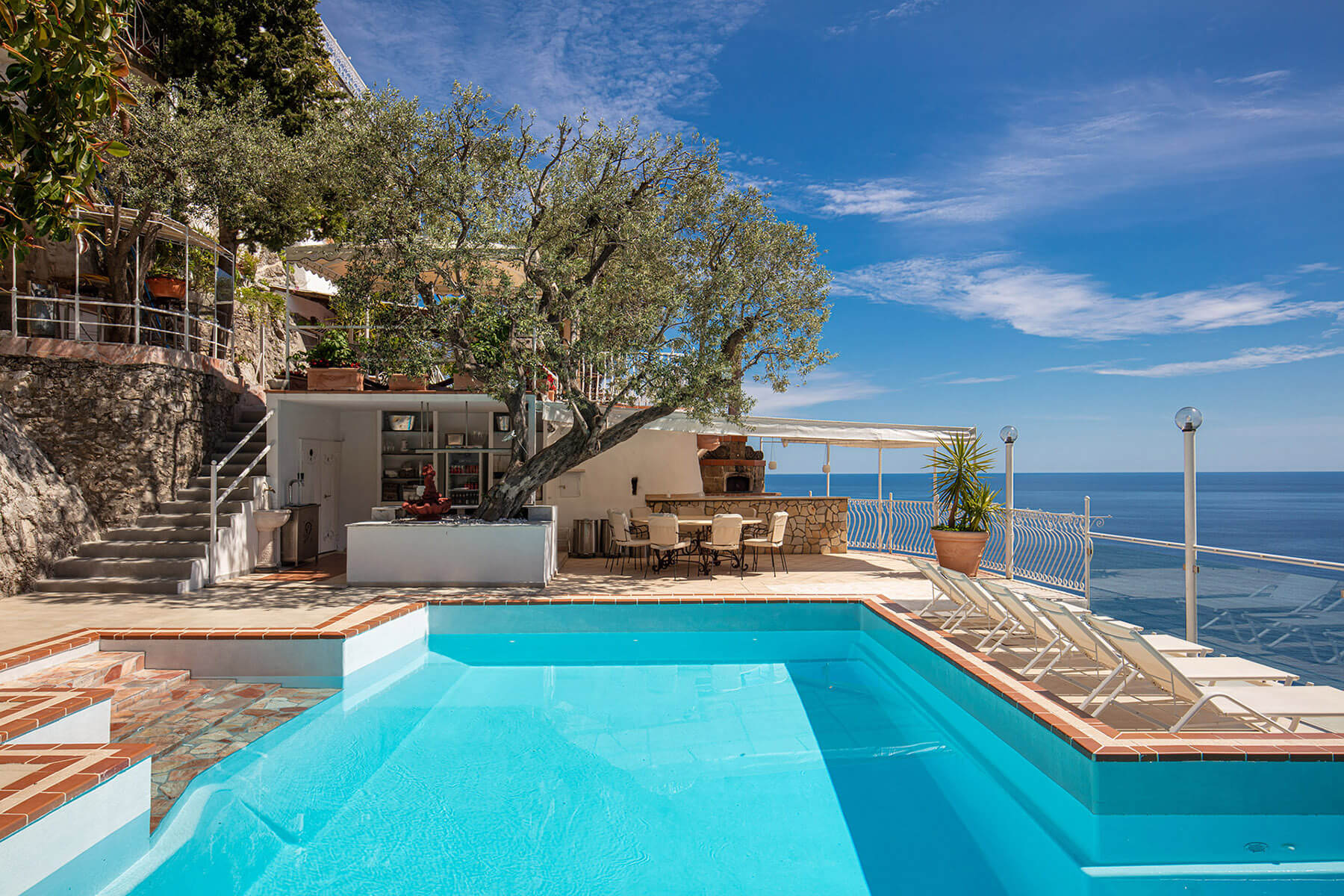 The terrace and the panoramic swimming pool can be accessed from the main entrance and the outdoor gym at the lowest level of the property features a Turkish bath and Jacuzzi, making for the perfect spot to relax, rejuvenate and recharge in the dream-like views of the Amalfi Coast.
Enjoy the exclusive use of this historic property built into the cliffs above the famous seaside town of Positano.
Enjoy wonderful views of the sea from any of the six bedrooms in the villa.
Enjoy classic Italian dishes made using fresh ingredients by a local cook throughout your stay, making every meal a fabulous treat. You can request your favourite dishes and the meals will be served directly in the villa.
Explore the beautiful coastline and the sea on a private boat. Sail along the Amalfi Coast or to Capri.
Go on a gourmet wine tour.
Take a cooking class guided by a professional chef.
Bask in the sun or take a dip in the beautiful waters at one of several pebbled beaches, just a short walk from the villa.
Explore the historical towns of the Amalfi Coast, each offering a distinct flavour, history and culture.
Relax with an evening cocktail on one of the villa's many terraces, each with breathtaking views.
Dine al fresco, enjoying local produce prepared by a professional, local chef.
Take a refreshing swim in the villa's large swimming pool.
We don't stop at finding you the right property, we also assist you with tailor made,
once in a lifetime vacation experiences.