LIVE THE TRUE ESSENCE OF PUGLIA
Abandon yourself to the infinite pleasures of a Puglian holiday
Villa Terra Rossa enjoys a privileged location, in the Apulian Hinterland. Set between two extraordinary seas, the Ionian and Adriatic, with 800 km of stunning shorelines, offering guests the best beaches on either coast.
This historic and vaulted Villa, set on 8 hectares of olive and citrus groves, is located in the suggestive Valle Cupa, less than ten minutes from Porta Rudiae, one of the three ancient gates leading into the old Lecce city centre.
Valle Cupa is one of the most fascinating and evocative areas of the Apulian hinterland, where the tradition of holiday resorts was established as far back as the 15th century when the ancient aristocracies built villas here.
This aristocratic villa, of great beauty, reduced to near ruin, was rescued and restored by award-winning architect, Heidi Locher and her husband, who modernized the spaces, while preserving its noble legacy, creating a contemporary elegant villa, suspended in the timeless beauty of Puglia.
Villa Terra Rossa is perfect for entertaining, socializing, and unwinding in elegance, while offering ample opportunities for total privacy, tranquility, and contemplation. This sumptuous 5-bedroom villa can comfortably accommodate up to 12 guests.
The soaring vaulted ceilings, arching over every space in this majestic villa's 4,000+ square foot surface, combined with modern design elements, such as poured concrete floors, whitewashed walls, and large glass doors that open onto the garden, create a unique and enviable blend of contemporary design and classic Puglian style.
More Details
DOWNLOAD OUR DETAILED BROCHURE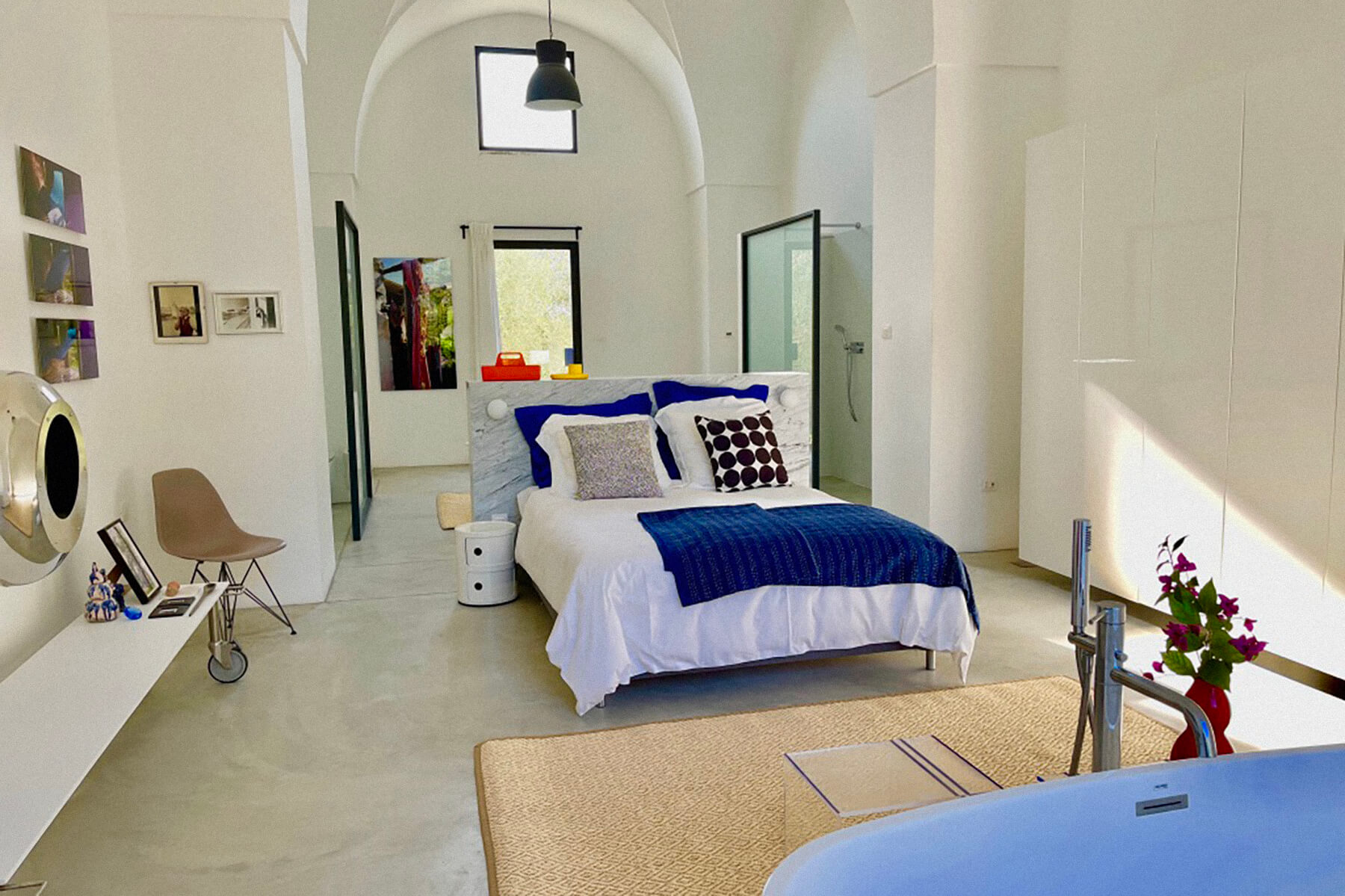 The Villa boasts an expanse of outdoor spaces and elegantly furnished outdoor living areas, including two large terraces. One terrace is for outdoor dining, and seats 14 guests, where as the second terrace is perfectly situated for lazy afternoons with a good book, or a glass of wine, while you abandon yourself to the infinite pleasures of a Puglian holiday. A large pool with 10 loungers and poolside cushions, overlooks a sunken Olive grove across Valle Cupa.
The villa's elegantly furnished, bright interiors house a collection of fine art, photography, and furniture by significant 20th Century artists.
At Villa Terra Rossa, you can capture and live the true essence of Puglia, a magical land where centuries of history, traditions, stunning landscapes, and bon vivre make up the weave of everyday life
Terra Rossa is a vaulted Villa less than ten minutes from Porta Rudiae, one of the three ancient gates into the old Lecce city centre.
Set in approximately 8 hectares of Olive and Citrus groves, in historic Valle Cupa, the area where many old Leccesse families built their summer Palazzo and Villas.
Renovated by award-winning architect Heidi Locher and her husband.
A villa designed for socializing, indoors and outdoors, while offering ample opportunity for quiet contemplation.
Lecce is a wonderful city that offers superb restaurants (including Michelin Star quality), great bars, and a culture that is open and friendly to all ages.
Less than ten minutes from Porta Rudiae, one of the three ancient gates leading into the old Lecce city centre.
Visit Lecce's Roman amphitheater, its vast Cathedral, and the numerous pretty piazzas and palazzos.
20-to-30-minute drive—between the Ionian and Adriatic seas, both offering gorgeous swimming beaches, beach clubs, charming fishing villages, and cheerful seaside restaurants and bars.
Supermarkets and shops are only 10 minutes away.
We don't stop at finding you the right property, we also assist you with tailor made,
once in a lifetime vacation experiences.