A TRULY REMARKABLE AND ELEGANT RENAISSANCE VILLA
Dating back to the 15th century on the spectacular hills of Florence
Its location is exceptional, with unique and dreamy Tuscan landscapes, surrounded by vineyards and ancient olive groves, only ten minutes away from Florence, the city of art.
Enjoy two lavish gardens, and the villa's unique designer swimming pool, set in the suggestive Porcinai garden. Have your breakfast served in the Cedar Garden, decorated with an English lawn and scented rose plants. Swim, take leisurely long walks, go for a jog or simply enjoy the tranquility of the Tuscan countryside.
Take to the Chianti hills for a typical Tuscan lunch and wine tasting or roam through romantic San Gimignano.
Villa Le Rose offers an unprecedented experience in luxury rentals. It is a veritable jewel, starting with the loggia, which lures you to explore the villa's deep history and art-filled interiors.
More Details
DOWNLOAD OUR DETAILED BROCHURE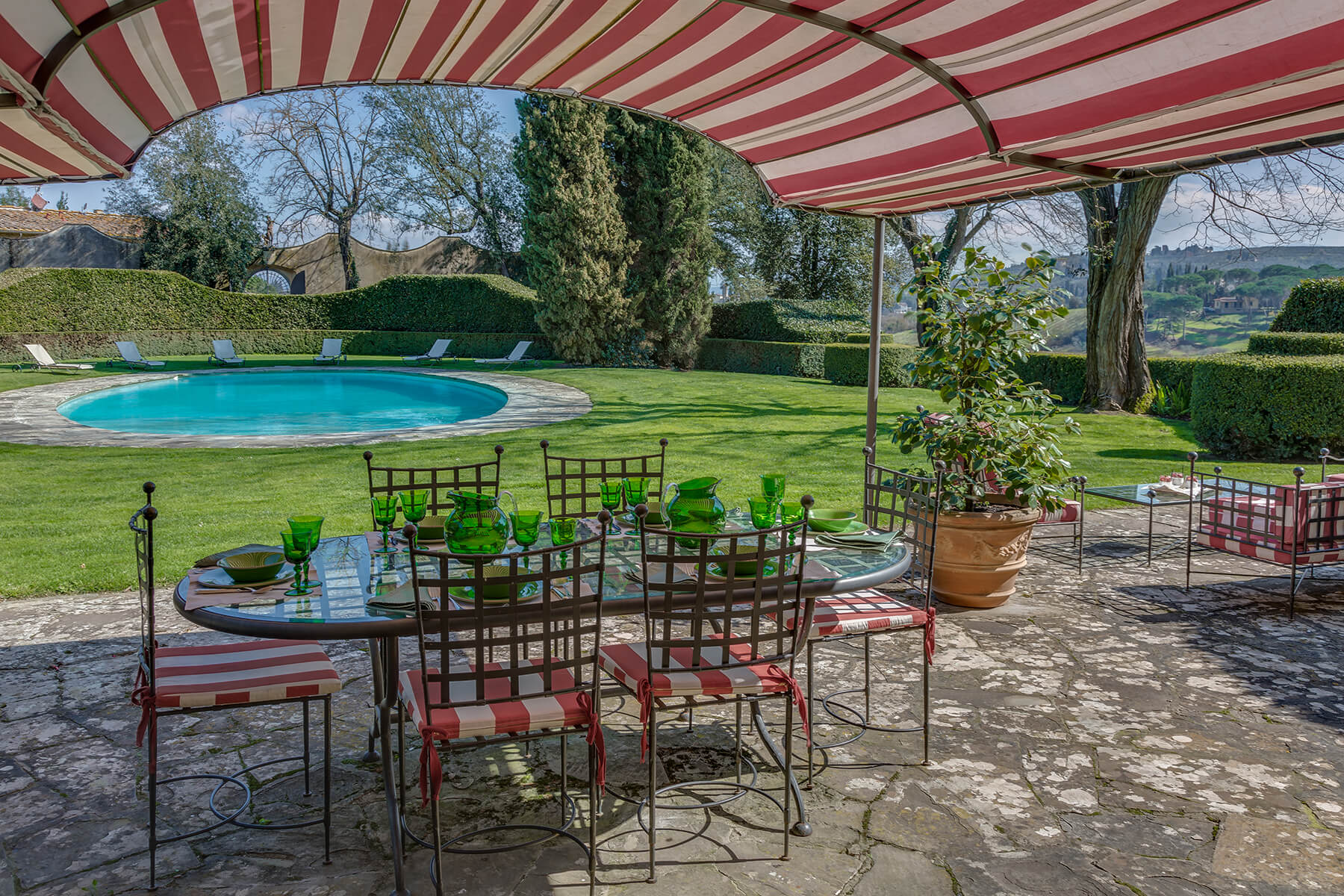 From Frescos to paintings and sculptures, a musician's balcony, and a grand Steinway piano, Villa Le Rose is sure to captivate even those most difficult to please. Its sumptuous dwellings are rich in every detail and accommodate up to fourteen guests in seven elegant, spacious, and bright deluxe bedrooms. The villa offers impeccable hospitality and a range of five-star services designed to meet all your needs.
Relax in the tranquility and total privacy of a villa befitting royalty and take in the beauty of the Tuscan countryside, with the convenience of being a mere ten-minute drive from Florence.
Spend a day in Florence, the heart of the renaissance with its famous museums and art galleries, and have a typical Florentine lunch in one of many trattorias.
Take a guided helicopter tour over the picturesque
Tuscan hills, and stop for a traditional lunch at a typical Tuscan countryside restaurant.
Indulge in a wine tasting excursion in the stunning
vineyards of the world-famous Chianti wine region,
on the villa's backdoor step.
Enjoy a sumptuous Tuscan meal, dining al fresco,
prepared by the villa's resident chef.
Let the team of on-site staff spoil you with their
exemplary five-star service.
Take a peaceful walk through the extensive grounds
of the estate that includes a private lake or go for a midnight swim in the pool, on a starry, balmy
midsummer night.
We don't stop at finding you the right property, we also assist you with tailor made,
once in a lifetime vacation experiences.