A BEAUTIFUL BLEND OF DESIGN AND COMFORT
The perfect place to begin your tour of the Salento region
Located near the beach town of Porto Cesareo and the baroque city of Lecce, Masseria Paradiso is the perfect place to begin your tour of the Salento region.
This modern, luxurious rural hideaway can accommodate up to 18 adults and 7 children in luxuriously designed and tastefully decorated, contemporary bedrooms. With a private spa and sauna, oversized swimming pool, massage room, Turkish bath and an indoor heated pool, the villa offers resort style facilities.
This ultra-luxurious flower-market-turned-luxury-resort blends its rich heritage with luxurious furnishings. In short, Masseria Paradiso is a beautiful blend of design and comfort, immersing its guests in top-end hospitality.
More Details
DOWNLOAD OUR DETAILED BROCHURE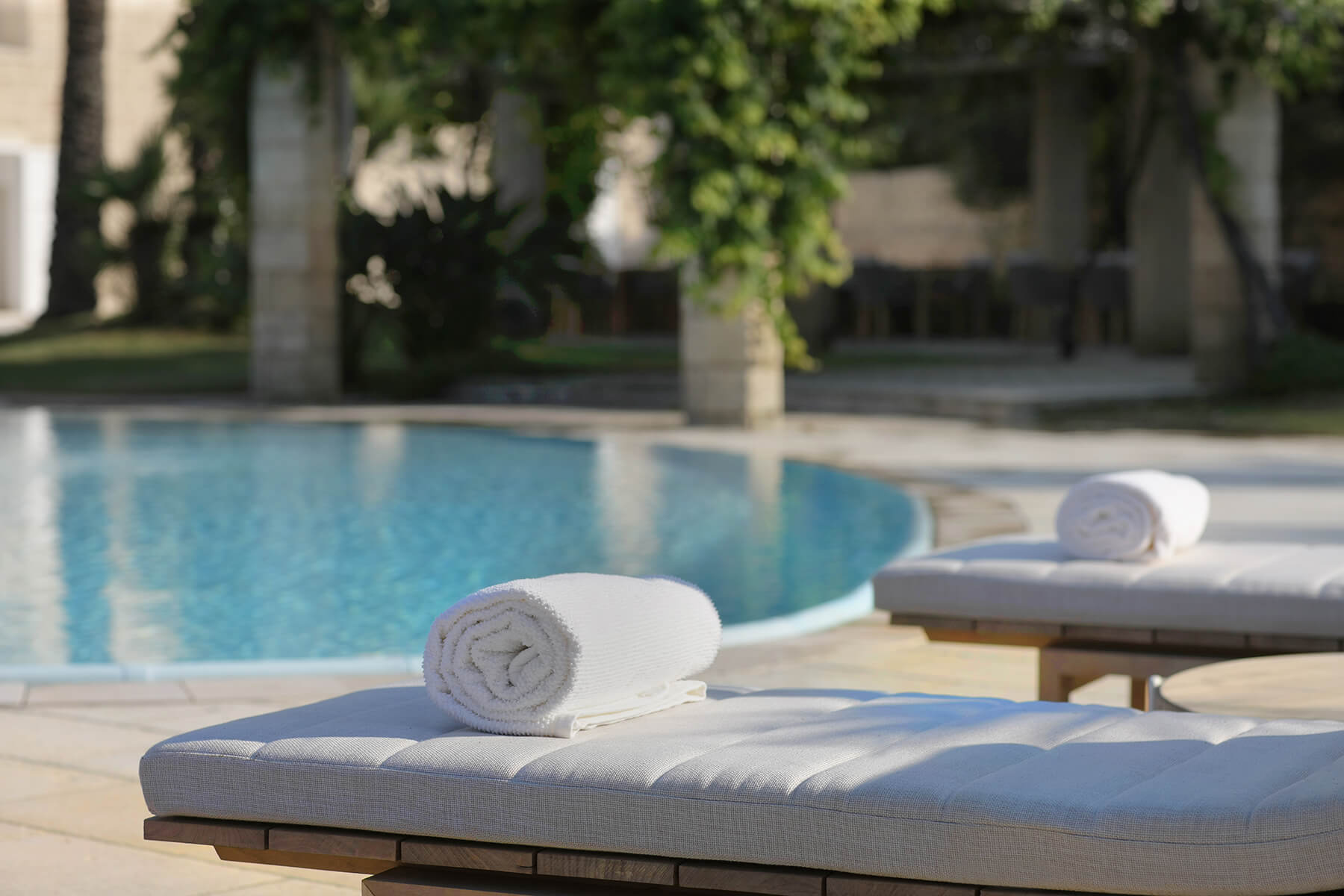 This stunning villa will prove to be a haven for wine connoisseurs with its access to the vineyards of Leverano. The estate can add a dining service to make your vacation truly fabulous, memorable and relaxing.
Find yourself in the heart of Apulia, a treasure trove of stunning castles, cultural heritage and several archaeological sites.
Explore the mesmerizingly beautiful city of Lecce, dubbed the "Florence of the South", just a short distance from the Masseria. Lecce is known for its baroque buildings, opulent palaces and beautiful churches.
Soak in the sun and explore the stunning beaches of
the Salento region of Puglia – the finest in all of Europe.
Enjoy the wonderful, historic town of Ostuni
nicknamed the "white city" known for its pictureperfect white stone houses and churches.
Head over to the 'silent room', the private dining
area in the villa where you can taste traditional
Salentino dishes prepared by the chef and savour
dishes like Melanzane alla Parmigiana and homemade
orecchiette.
Relax by the swimming pool surrounded by palm trees
and lush Mediterranean vegetation.
Pamper yourself in the wine-cellar-turned spa with a vertical massage shower and a Turkish bath.
Go wine tasting in the vineyards of Leverano.
Dine al fresco, enjoying local produce prepared by a professional, local chef.
We don't stop at finding you the right property, we also assist you with tailor made,
once in a lifetime vacation experiences.