AN INCOMPARABLE EXPERIENCE
Italy, Tuscany, Montepulciano
This elegant and historic villa, set amongst olive groves, boasts breathtaking views of the city and its skyline.
Villa La Vista Del Borgo is nestled in the lush rolling hills of Montepulciano. This astounding 17th-century villa, with its 14th-century guard tower still standing proud, offers a truly incomparable experience.
Villa La Vista Del Borgo will captivate and inspire you. Surrounded by the Tuscan hills facing the town of Montepulciano; the grounds boast an array of 400 plants, a darling small private lake, an organic farm, an olive grove, and vineyards.
The restoration of this rare Villa has enhanced the priceless integrity of the original building, integrating it with quality modern facilities and cutting-edge technology.
The villa is a veritable haven and sanctuary set in Montepulciano's pristine nature. A unique combination of history, tradition, and luxury modern comforts.
A professional staff to look after your every need, and a top-of-the-line Wellness Center, make Villa La Vista Del Borgo the perfect luxury getaway and an oasis of wellbeing.
More Details
DOWNLOAD OUR DETAILED BROCHURE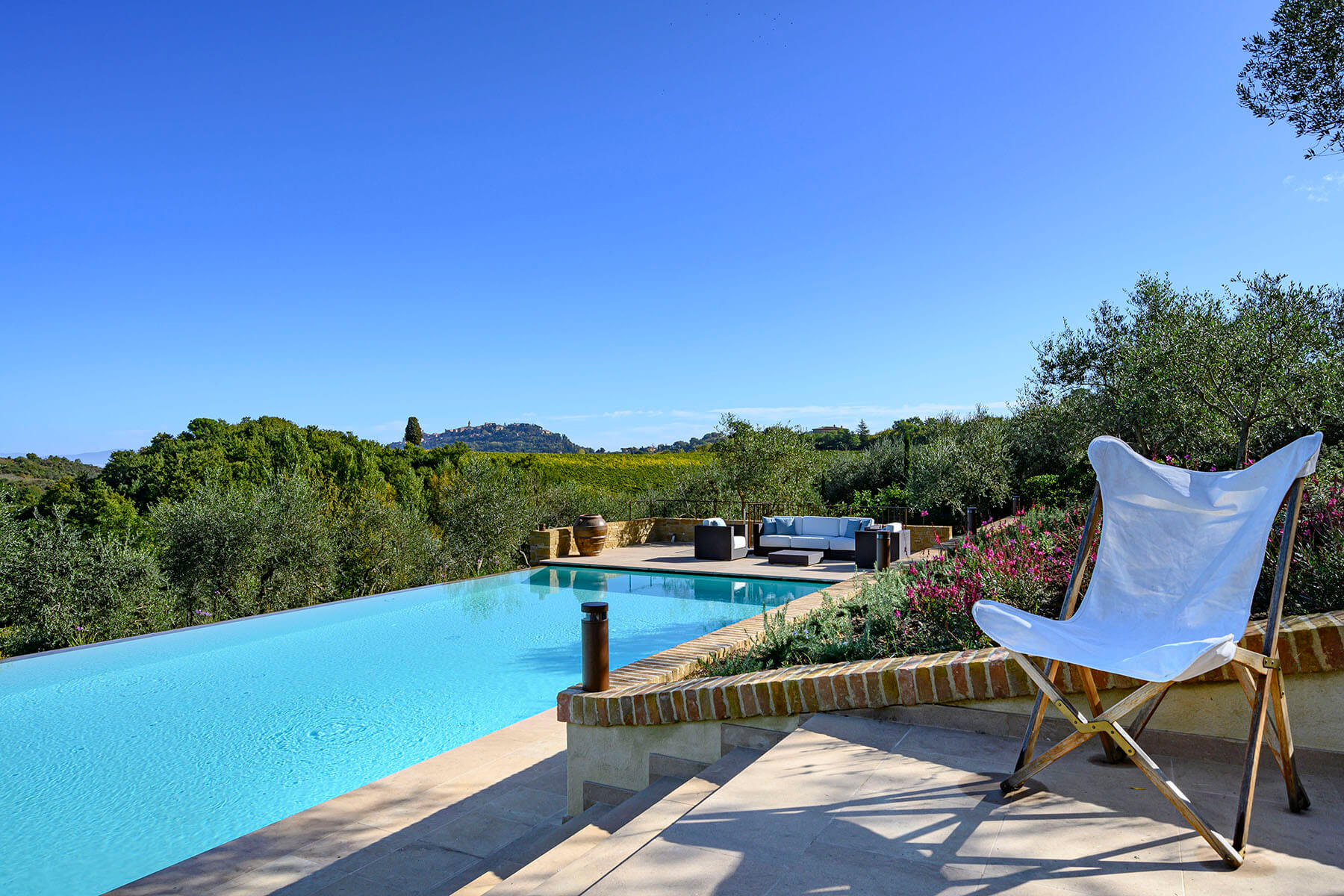 Furnished with elegance, style, and comfort in mind, the villa features an exquisite and charming combination of antique and design pieces. Original beams in the ceilings, traditional 'cotto' tiled floors, and stone fireplaces all add to its charm and authenticity.
The Villa has six bright and stylish rooms, two fully equipped kitchens, and two living rooms abound with all comforts, facing the stunning panorama of Montepulciano.
Villa La Vista Del Borgo's Wellness Center is impressive. Enjoy a private indoor and outdoor swimming pool, hydromassage, sauna, Hammam, and sensory showers overlooking the villa's paradisical garden. The villa is surrounded by a 1 ½ kilometers private path if you're up for a jog or a leisurely stroll.
Villa La Vista Del Borgo is the perfect destination for a vacation with your loved ones, or for a special event. The villa's unique location is excellent for discovering and taking in the unadulterated beauty, history, and traditions of Tuscany.
During your stay let us spoil you. Choose from various experiences, such as cooking classes, wine tastings, truffle hunting, olive harvesting, and trips to the surrounding Tuscan art cities with or without a guide. Our qualified staff will handle all the details and look after all your needs, while you enjoy the best Tuscany has to offer.
Stunning View of the Medieval Borgo of Montepulciano
Within walking distance of several breathtaking towns
17th-century villa, with a 14th-century guard tower, luxury modern facilities, and cutting-edge technology
Private Wellness Room with Sauna, Hammam and Heated In-door swimming pool
Wine cellar with wines from the local vineyards
A stunning pool overlooking the suggestive Tuscan rolling hills
Visit the nearby town of Montepulciano, explore its Etruscan origins • Visit nearby Siena, Pienza and Montalcino
Spend a day in San Quirico, the first public garden in Tuscany also known as the Renaissance Garden
Relaxation and unwind in Bagno Vignone's steamy thermal waters which flow from the volcanic undergrounds since Etruscan and Roman times.
Participate in cooking classes, wine tastings, truffle hunting, olive harvesting, and trips to the surrounding Tuscan art cities with or without a guide
We don't stop at finding you the right property, we also assist you with tailor made,
once in a lifetime vacation experiences.